The Holdout near District 8 was a Waterborne Holdout located close to District 8. 
Construction
Edit
It was constructed by 56 Waterbornes led by Morgan Waterborne who had escaped the Invasion of District 4 and were trying to survive the Waterborne Holocaust.
Destruction
Edit
6 Months Later, District 8 peacekeepers attacked and destroyed the holdout, killing everyone who populated it. They took the valuable things before torching the holdout, leaving ash and rubble where it stood.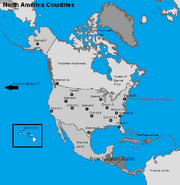 It was located just north of District 8, straddling the northeastern coast of Panem.